Sportneer balance board review
Sportneer balance board listing didn't stand out among the other boards with an unknown brand and relatively low price. I wasn't expecting much and decided to skip reviewing this item. Still, upon reading some of the reviews, I got curious to give it a try, and I'm glad I did, as it blew past my expectations!
Introduction
Sportneer balance board is a multipurpose wooden balance board designed to meet the needs of balance enthusiasts at any experience level. With this simple piece of equipment, you'll be able to boost your balance and coordination. Sportneer's board is one of the mid-range price options. Still, weighing features and quality is an excellent value for your money.
Sportneer balance board is a multipurpose wooden balance board designed to meet the needs of balance enthusiasts at any experience level. With this simple piece of equipment, you'll be able to:
Boost your balance and coordination.
Work on your core strength and stability.
Work on your posture.
Improve hockey, snowboarding, or other board sports skills.
Sportneer deck overview
The board is medium-sized, roughly 31.5″ (80cm) in length, which is one of the popular sizes for all riders, and should fit well for people up to 6′ (180cm). 13 layers of birch glued together with fine craftsmanship ensures me that this board can hold weight, the company prides their decks could bear 450 lbs (204kg). Still, I'd stick to 300 lbs (136kg), especially when performing dynamic moves and jumps.
On top of being a sturdy board, looks don't disappoint with a cross between freestyle and surfing style edges covered with practical fitting non-slip grip.
Stoppers and safety
The product comes with four independent magnetic removable stoppers to ensure the board doesn't fly out from under you. The two straight magnet stoppers enable stoppers to occupy 4 preset positions and provide excellent support for beginner to intermediate level. The remaining two curved magnets are to help you start balancing using a balance ball. Even though stoppers are of good quality, be aware that they can pop out of their slot upon hard impact.
Another vital safety topic is friction; the Sportneer board has a non-slip grip covering the deck's surface. It reminds me of the classic grip tape used in skateboards that ensures your feet don't slide off the board. It doesn't cause discomfort while balancing bare feet, but I wouldn't recommend holding a plank on it.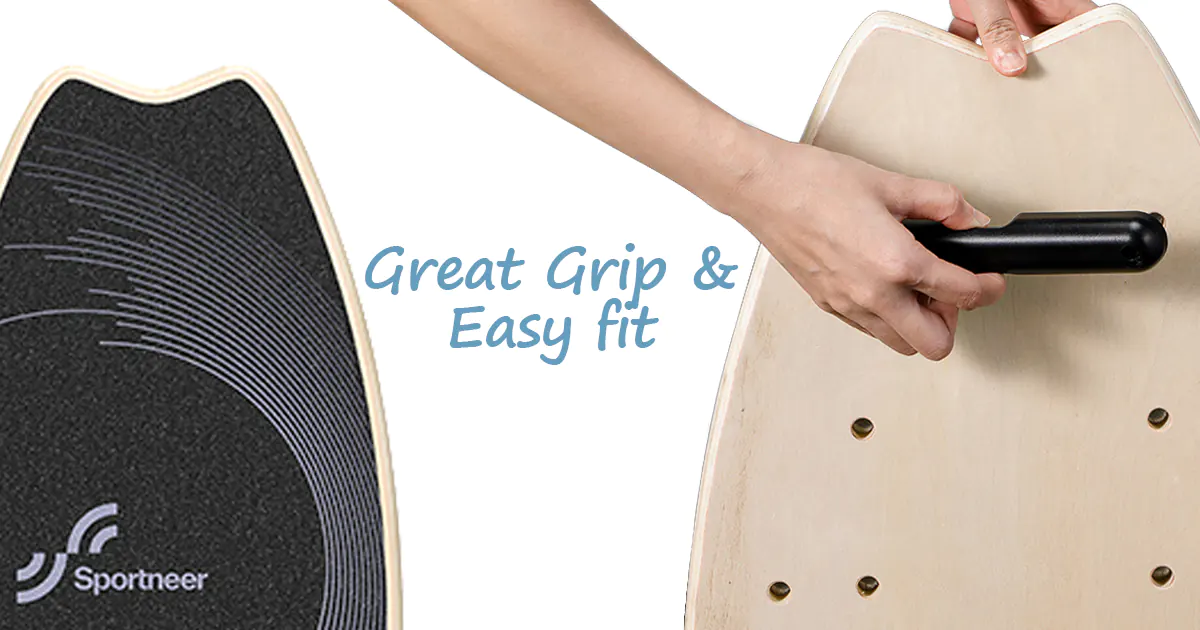 Roller and ball usability
As per usual, each balance board comes with a roller. With this board, sellers didn't go with a cheap foam-like roller but, judging by the weight and feel, a solid plastic one. Like with other rollers, the general recommendation is not to use it straight on tiles or hardwood floors. It'll roll well on your carpet or even better if you invest in a good office chair mat.
A pleasant surprise for me was the small rubber ball, a little under 3" (7cm) in diameter. If balancing with the rollers no longer poses a challenge, the ball takes it to the next level with 360-degree balancing possibilities. Since the ball is just slightly larger than the stoppers, it gives a sense of security; usually, you simply touch the ground softly with the plugs. But be careful, as balancing on the ball is way more challenging, dynamic, and potentially dangerous than using a roller.
Price and product specification
The product falls into the under 100$ price range and is one of the best options for that medium price range. With the safety features and sturdiness of the build, it outranks most of the boards that cost double the price. Indeed a great value finding if you're seeking for all-around good balance board.
| | |
| --- | --- |
| Item package dimensions L x W x H | 34.1 x 14.4 x 6.4 inches (86.6 x 36.5 x 16.2 centimeters) |
| Board material | Wood |
| Colors | Light Blue or Black |
| Package weight | 13lbs(6kg) |
| Package contents | Balance board, a roller, balance ball, 4 independent magnetic removable stoppers & instructions manual that also has some suggested workout exercises |
| Manufacturer | Sporteneer |
Sporteneer balance board specification table
Other great balance board reviews
Conclusion
Positive
There are many progression options to choose from.
The plastic stops are magnetized and easy to reposition.
A good sized board to use with a standing desk.
Board looks and feels very durable.
The price
Negatives
The roller had a little bump across its length, which you could visually notice, and it disrupted the smooth balancing.
Boards' shape limits the space for your feet towards the edges.
High-grip surface provides excellent grip but could be more pleasant to elbows if attempting a plank or other fitness exercises.
Overall I've had a pleasant experience; Sportaneer aimed to make a balance board for all experience levels, and they did it successfully. The only addition would be to include an inflatable pad as Revbalance did; this would allow a super easy mode to balance on a board. Still, the balance board is just the right size to use together with a standing desk. Using a roller with magnetic breakers engaged my muscles enough to make me maintain a good posture without being too overwhelming or tiring. Switching to a ball enabled me to fully engage the muscles, which will transfer well to snowboarding and wakeboarding activities.