Gentle Monsters Balance Board Review
Skill board debuted with an excellent video targeting athletes, professionals, or motivated beginners. Storming crowdfunding sites like Indiegogo and Kickstarter skill board managed to pull together over a million dollars. That says a lot about the product they've produced!
Introduction
As a firm believer that balance boards are an excellent tool for improving core strength, balance, and coordination, it's only natural that I've purchased a kids' balance board for my two-year-old. Given the attention span with other toys, I wasn't expecting that much, but after a couple of months, this curved piece of wood still gets daily use by my son and even myself.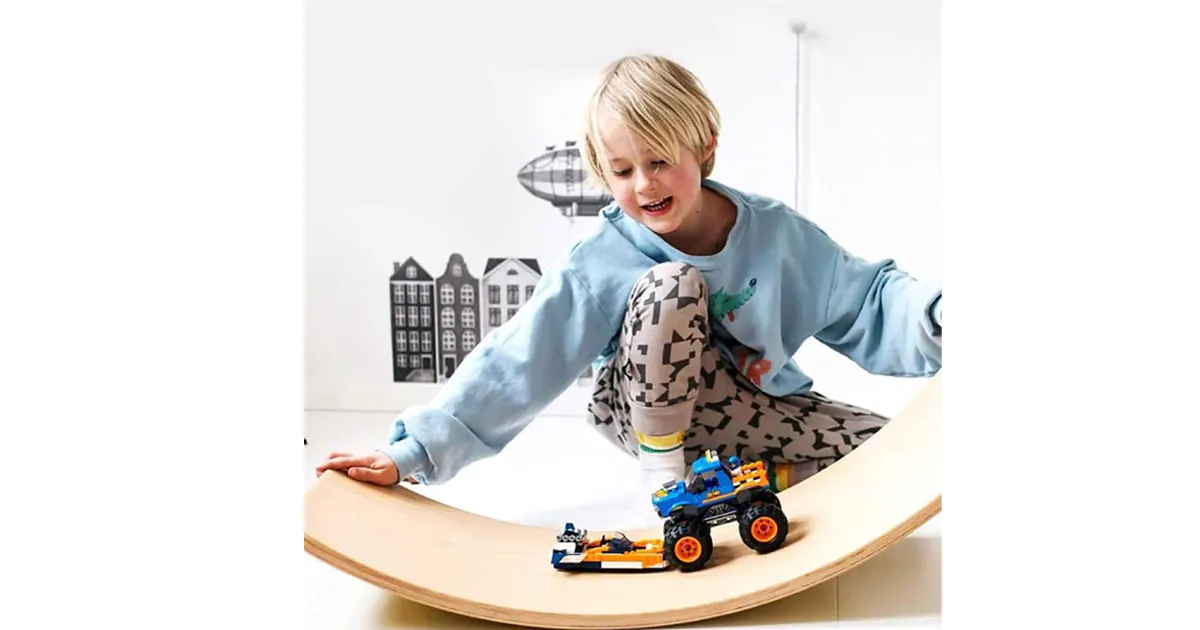 Check price
Check Price of Gentle Monster Wobble Board
Find latest price for this product
Gentle Monster deck overview
The wooden wobble board is medium-sized and measures 11.8″(30cm) in width and 35″(89cm) across its curved length. The wood deck is surprisingly thin at 0.66″(1.6cm). I'm still determining if it'll hold 480 lbs, as stated by the sellers.
As a parent buying playthings for my child, I always double-check the chemical properties. It is a priority to ensure it doesn't have toxins and is safe for long-term exposure. With the Gentle Monster decks, I'm pleased that they've used a non-toxic paint with a smooth water-based varnish coating.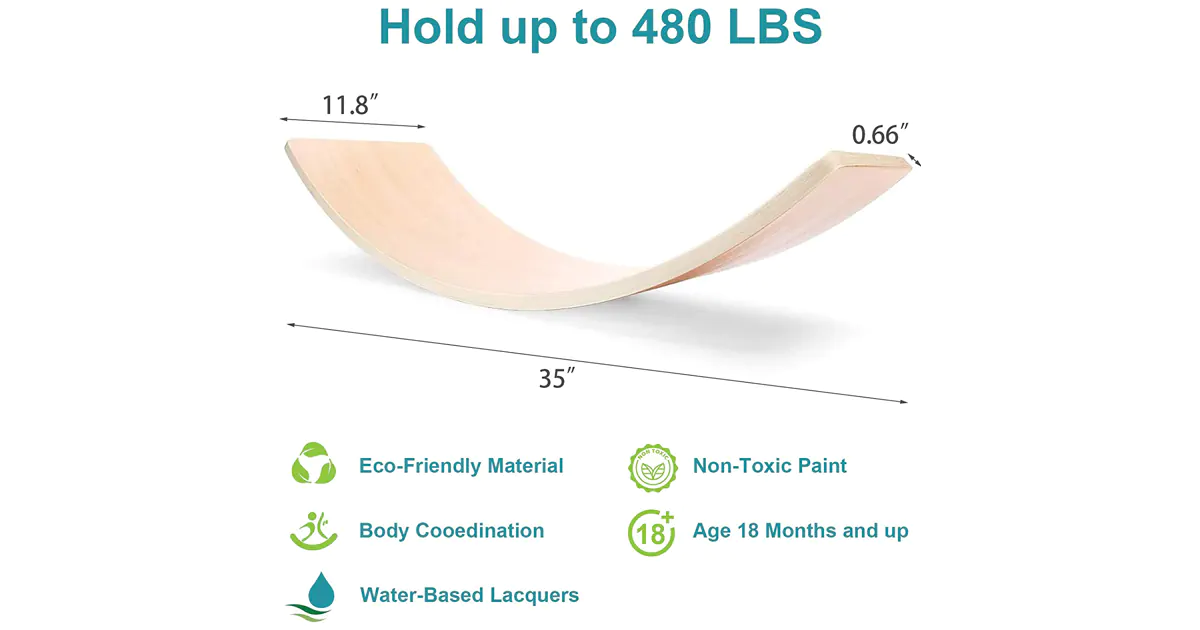 Safety features of Gentle Monsters Board
Generally, these curved wobble balance boards are not safety-feature packed, and Gentle Monsters isn't an exception. I'm happy that after a couple of months of extensive use, I'm not seeing any splinters, only the dents on the soft wood. Another essential thing is properly rounded corners. All four corners of the balance board wore perfectly rounded and smooth to the touch. All these are pretty obvious though there were some things I didn't expect:
The kids' balance board is quite slippery, and it's best to be used with bare feet or a pair of grip socks. In all fairness, the seller does mention that in their description, but having too much practice on smooth balance boards, I was surprised to find out how slippery it would get on that angle.
Try the board yourself before showing it to your children, or do it after a few days when their excitement goes down since it is very easy to hurt their toes accidentally. It's OK to sit, wobble or play using it together, but when you're rocking, be aware of your children's feet and toes.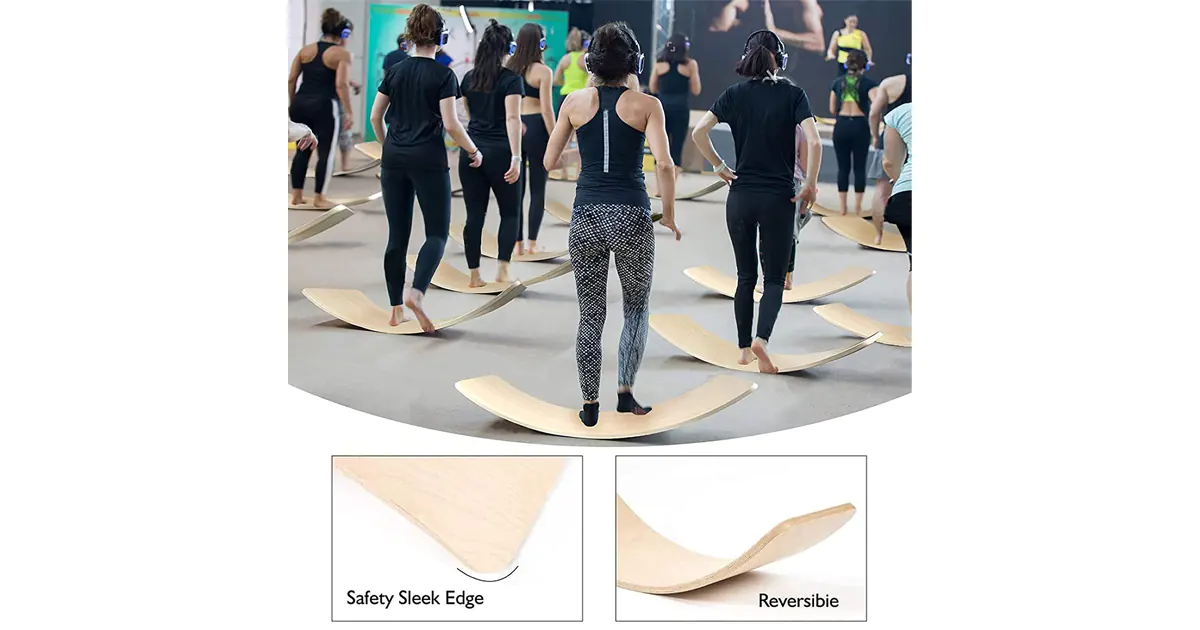 Check price
Check Price of Gentle Monster Balance Board
Find latest price for this product
Ideal use cases for Wobble Balance Board
While the Gentle Monster Balance Board is a fantastic tool for building core muscles and fitness, we seldom use it that way. In our case, it became an ideal building block for imaginative play, allowing his mind to run wild as he created a slide by placing it next to the bed or hangar for all the toy planes and cars. Whether for physical exercise or creative play, this balance board will provide hours of fun and entertainment for your little ones.
Price and product specification
I find the Gentle Monster balance board price is quite similar to other medium-sized kids' wobble boards. The deciding factor for our purchase was their recommended age of 18 months or older. Unfortunately, unlike other reviews on our page, I can't provide a comparison, but weighing in the joy and our son's time playing with the board, it was totally worth the money.
| | |
| --- | --- |
| Brand | Gentle Monsters |
| Board Dimensions | 33″ x 8″ x 1″ (83.82 cm x 20.32 cm x 2.54 cm) |
| Weight Limit | 480lbs (217 kilograms) |
| Material | Wood |
Gentle Monsters balance board specifications
Other great balance boards
Verdict
Positives
Versatile: It's not just a balance board. It can be a seat, a bridge, a slide, or a hill for your child's imagination.
Durable: Even though the wood seemed soft, I saw no signs of splintering or other real damage apart from cosmetic dents.
Fun: Provides a vast and unique experience that can be enjoyable for kids and adults. Fitness benefits: helps to improve balance, coordination, core strength, and overall fitness.
Negative
Price: even though it's similarly priced, but still it's a hefty price for a piece of plywood.
In conclusion, the Gentle Monster Balance Board is a versatile, durable, and fun toy that provides a unique experience for kids and adults. It's good for improving balance and coordination but shines in numerous possibilities for your child's play. While it may be a bit pricey for a piece of plywood, I feel comfortable with the materials used in making the board, and it's worth the investment for the joy and entertainment it brings. Overall, we highly recommend the Gentle Monster Balance Board for toddlers and kids.
Check price
Check Price of Gentle Monster Wooden Balance Board
Find latest price for this product