Are you planning to buy your first, or are you in the market for a new balance board? Anyways a balance board is an excellent addition to your exercise routine as it offers a fun and challenging way to improve your balance, coordination, and core strength. It can quickly transform simple bodyweight exercises like squats, planks, and pushups into a complex, whole-body engaging workout. But with so many different types, shapes, and sizes of boards, it can take loads of time to decide which one to choose. If you want to save time, here are the three highest-rated board options below, and if you're willing to spend a little time, continue reading through our 7 tips to help you choose a perfect board for your needs.
Tip 1: Determine Your Purpose for the board
The first step in choosing a balance board is determining how you want to use it. This will help you select the right tool that suits your needs. Here are some everyday purposes for using a balance board:
Trying out or using it casually.
If you're looking for a fun activity, want to improve your balance, or use it while working next to a standing desk? Going with a basic wood wobble board or Simply Fit Board could be a good start if that's the case. This type of board is an excellent choice for those just starting out, as it is simple to use and affordable.
Strengthening Your Workouts with a Balance Board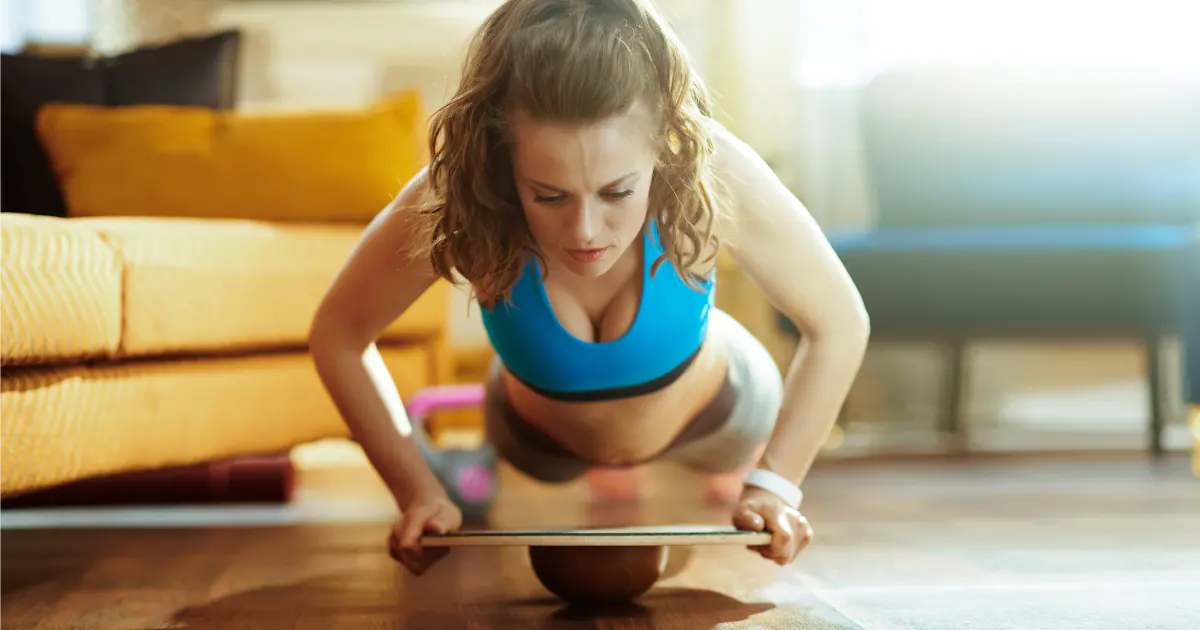 There's been an increasing amount of people adding balance exercises to enhance their workouts. By forcing you to engage your core and stabilize your body, the instability of the board additionally strengthens your back and abdominal muscles. Incorporating balance board exercises into your fitness routine is a great way to target multiple muscle groups and add variety to your workouts.
Improving Other Sports or Impressing Your Friends with Balancing Tricks
Using a balance board can be a fun and unique way to show off your skills and impress your friends. If you're dedicated to enhancing your balance and enthusiastic about mastering some tricks, consider choosing a balance board, like Skill Board that allows you to balance on a ball.
Tip 2: Consider Your Skill Level
Another vital factor to consider when choosing a balance board is your current skill level. If you're a beginner and balance has always been a challenge, start with a wooden balance disk, balance cushion, or roller balance board with good stoppers.
Tip 3: Check the Weight Limit
Remember to check the weight limit of the balance equipment you're interested in. You want to choose a board that can support your weight, and if you're planning to do jumps or other dynamic moves on the board, it's better to pick a board with a larger weight limit.
Tip 4: Consider Deck length
Generally, a deck of 30″ should fit well for people under 6 feet. However, since we're all different, it's best to make sure the board will feel comfortable.
Grab a meter, scissors, and some tape.
These are just general tools for marking balance board length on the ground. You can also use a pencil for marking, but using tape is the easiest to see and the least messy option.
Measure 30″ or your deck length.
If you're already set on a specific board, then definitely use that board length, but most boards are around 30" (76 cm) in size.
Stick some tape on both ends.
As mentioned before, you can use any marking option to easily see where deck edges would be. Using tape generally is the easiest to set up and clean afterward.
Position yourself shoulder width in between the taped-off ends.
Now that you can see the board size, place yourself on an imaginary board.
Try rocking your hips, squatting, and lunging.
It's hard to explain how the body tries to balance itself on the board, but it resembles slight hip movements coupled with a tightening of your leg muscles. By moving your hips, squatting, and lunging, you'll notice if the board will offer enough space for your body to execute those moves.
Examine if you can stand and squat comfortably.
The board is a good fit if you can stand and squat comfortably, and If you make some lunges, it should be big enough for advanced exercises.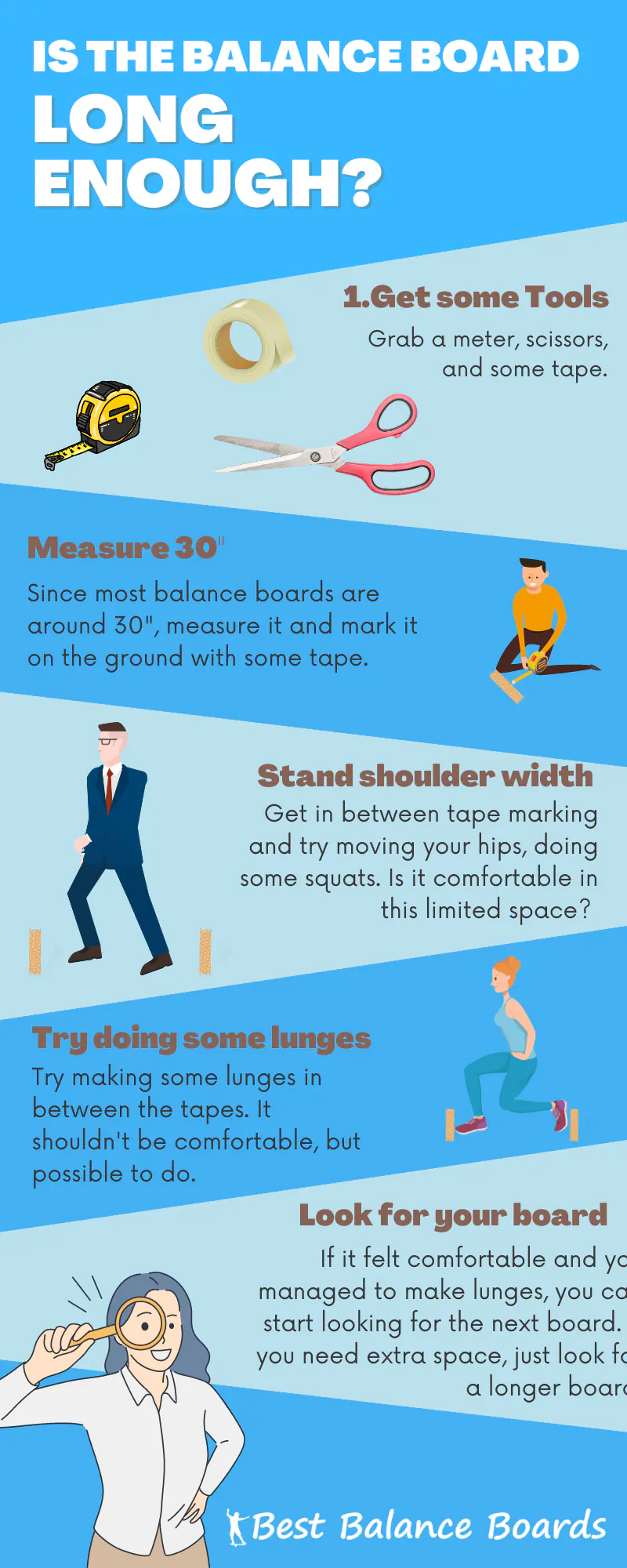 Tip 5: Check the warranty
It's always a good idea to check the warranty of a product you want. Balance boards can range from 30 days return to a Lifetime warranty, which can indicate the board's quality.
Tip 6: Try before buying
This is quite obvious. Try the balance board before you buy it. This will give you a better idea of how the board feels and performs and can help you make a more informed purchase decision. Still, finding one is a bit more complex. Oddly I haven't seen one in any gyms. Still, I have seen plenty in Wakeboarding parks, surfing or kiteboarding schools, and snowboard or skateboard shops. Therefore, if you have one in the area, it could be worth visiting.
Tip 7: Read Reviews
Before making a purchase, be sure to read reviews from other customers who have used the balance board you're interested in. This will give you a better idea of the quality and performance of the board and can help you avoid any potential issues.
Conclusion
A balance board is a great investment for improving balance, coordination, and core strength. When choosing a board, it is important to consider your purpose for using it and your skill level. Remember to check the weight limit and offered warranty and read reviews from other customers. Lastly, look for options to test the board before buying. By considering these factors, you can find the perfect balance board that fits your needs and provides a fun and challenging workout experience. With these tips in mind, you can be confident in your purchase and enjoy the benefits of incorporating a balance board into your everyday life.